Today, Team Novel Teen is doing a blog tour for my new book, Captives. which is the first book in a dystopian trilogy that was inspired by chapter one of the book of Daniel in the bible. 
A lot of the bloggers are giving away a copy of the book, including me! So, enter here, or follow the links at the bottom of the post to see other places you can enter. And feel free to spread the word!
Here is the blurb:
One choice could destroy them all.
When eighteen-year-old Levi returned from Denver City with his latest scavenged finds, he never imagined he'd find his village of Glenrock decimated, loved ones killed, and many—including his fiancée, Jem–taken captive. Levi is determined to rescue what remains of his people, even if it means entering the Safe Lands, a walled city that seems anything but safe.
Omar knows he betrayed his brother by sending him away, but helping the enforcers was necessary. Living off the land and clinging to an outdated religion holds his village back. The Safe Land has protected people since the plague decimated the world generations ago … and its rulers have promised power and wealth beyond Omar's dreams.
Meanwhile, their brother Mason has been granted a position inside the Safe Lands, and may be able to use his captivity to save not only his people, but also find a cure for the virus that threatens everyone inside the Safe Lands.
Can Mason uncover the truth hidden behind the Safe Land's façade before it's too late?
Age Range: 14 and up
Genre: dystopian
Part of a Series: book one in the Safe Lands series
Pages: 416
Publisher: Zondervan/Blink
Released: 2013
Click here to download an interview with me and Nicole O'Dell about Captives. I'm on the show second, so first enjoy author Laura Kurk! If you'd like to listen to it now, click the play button at the under the social media links at the bottom of this post.
And here is the awesome book trailer that Zondervan made for me: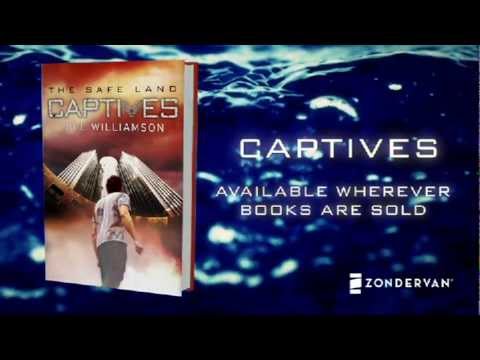 Team Novel Teen is a group of bloggers dedicated to spreading the word about clean teen fiction. Check out other posts about Captives by Jill Williamson by clicking on the links below, and click here for more information about Team Novel Teen.
ADD Librarian • Blooming with Books • Bookworm Reading • Chris Kolmorgen • Christian Book Review Blog • Christian Bookshelf Reviews • CTF Devourer • Colorimetry • Emily Rachelle Writes • Heavenward Reviews • Jessica Laurie • Jill Williamson • Labor Not in Vain • The Life of a Teenage Writer • The Maniacal Bookworm • Mrs. Southern Bride • Oh, Restless Bird • Pages from My Journal • The Pen and Parchment • Rachelle Rea • The Ramblings of a Young Author • Realm of Hearts • Shadow Writer World • A Simple Life, Really?! • Surrendering All of Me • Terri Harr • Verbosity Book Reviews • Who YA Reading? • Worthy2Read • The Writings of Rosie 
Teen Talk Radio Laura Kurk and Jill Williamson
[ 58:36 ]
Play Now
| |
Download