Release
Download
Cities Under Fire is a dynamic, melodic alternative rock band. The guys have two albums, "Lukewarm Love" and "Bright Lights." This past summer they toured through Oregon and I got to meet them! Sweet! Their concert was amazing! And I am now a total Firehead (a term I just made up).
They're visiting with me on my blog today. I'm so excited. But first, check out this video of one of their songs called "Stay."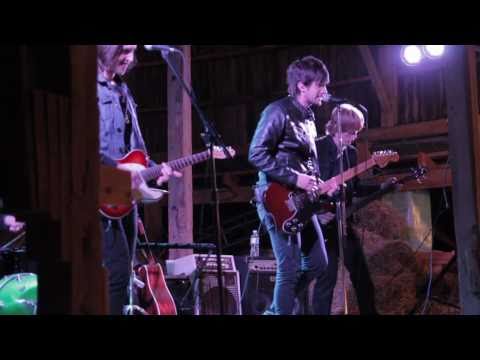 Hey, guys. Thanks for stopping by. Can you introduce yourselves and tell me what instrument you play or if you sing?
Bronson plays bass, Jardeth plays guitars and adds some Vocals, David sings lead and plays guitar, and Andrew plays drums.
Where are you guys from?
Andrew: We're based out of North Battleford, Saskatchewan, Canada.  We all live in the area.
How did you guys meet?
Jardeth: The three brothers in the band (Andrew, Bronson, and Jardeth) have grown up playing in a family band called Double Portion. We were traveling in Iowa where David's family was living and we became friends. David moved to North Battleford where my family lived, and the rest is history. 
When did you start the band?
Andrew: It started out with David and I jamming about six years ago when he first moved up to Sask.  We started jamming with Jardeth about a year later and started writing songs.  We released our first album (a 7 song EP) in 2009 followed by our first full length album in 2010.
Bronson? Are you new to the band? Because I was watching the YouTube video of "Stay," and that bass player was blond. 🙂 Can you tell me when you joined up?
Bronson: I joined up as their full time bass player last summer.
Awesome. Guys, when you were little, what did you want to be when you grew up?
J: I've always wanted to be a musician. But for a short while I wanted to play basketball.  
A: Growing up in a musical family I always knew that music is where I wanted to be.  Of course going through high school I was very interested in sports, and I always tried to be involved in any that I could.
D: A professional baseball player. 
B: A musician.
I love it! Sports or music. Your tastes are very similar. Do any of you still play with your family band?
J: Jardeth and Bronson still play with the band.
I adore that family picture, so I have to post it. Here is Canada's Double Portion. I want to come to Christmas at your house. So fun!
What do you guys feel is the purpose of Cities Under Fire?
D: To create music that impacts people's lives and for them to encounter the love of God through our music and our lives.
J: I feel the purpose of CUF is to spread the joy and message of Jesus Christ through a incredibly tangible way. To break the mind set that Christianity is boring and stagnant, and that Jesus wants us to have life MORE abundantly. 
I'm always hearing about how tough it is for bands to go one tour and face all the temptations that come with that. How do you stay spiritually grounded?
D: Having parents that have been in ministry and back me up. As well as having several people in my life that encourage me spiritually.  
A: When we're out on the road we take time each day to have band devotions. 
What do you consider one of your biggest life adventures? 
D: Living in Hawaii for three months. (Jill is jealous.)
A: Marrying my wife Cheilon a little over 3 years ago.  Also, this band has been a big one as well. (Jill agrees that marriage is a great adventure.)
B: Travelling in a van with five guys for weeks on end is always an adventure. (LOL I can imagine. If you ever need someone to write your story, I'm in!)
J: Traveling across Japan last summer. (Love Japan! When I was in high school, I got to go to school in Okinawa for a month.)
Can you tell us a bit about your new album "Bright Lights"?
J: Sure. "Bright Lights" is our latest album recorded with Darryl Swart (Tree 63) at red tree studios in Calgary, Alberta. We're all very proud of this project. We feel it's a very sonically and lyrically progressive follow-up to "Lukewarm Love". It is really packed full of Cities Under Fire's heart and passion. 
D: We put a lot more time into each song and feel it is our strongest album all around. 
Readers, Cities Under Fire has a new song called "Release" that they're really excited about. Check it out here:
http://soundcloud.com/citiesunderfire/release
Can you tell me what the song "Release" is all about?
D: It can relate to a lot of different people about needing and wanting more than this life has to offer, no matter where they are in life.  
Jardeth, where did you learn that trick of singing into your guitar? That was so cool!
J: Ha ha, thanks. It started when I was writing and recording a song in my basement, and all I had was my guitar. I had this idea for a haunting, delayed vocal-thing. So I just tried singing into the pickups and it worked. So we decided to try it on stage and it seems to be something people like. 
Smart thinking, Jardeth. It was sweet. Any tours planned in the future?
A: We've just finished up two tours this fall. The first took us west through Oregon and Washington and ended in British Columbia.  The second tour took us to eastern Canada, mostly in Ontario.  We're working on a tour right now that will take us to the mid-west US as well as the prairie provinces in the spring.
Where can people go to hear your music?
Website: http://www.citiesunderfire.com/
"Like" the Facebook page: http://www.facebook.com/citiesunderfire
iTunes: www.itunes.com/citiesunderfire
Online store: www.citiesunderfire.com/store
So nice talking with you guys again! I'm telling everyone I know about you guys. You rock!
And, Readers, I have an AUTOGRAPHED copy of Cities Under Fire's "Lukewarm Love" CD and a cool poster to give away today. Just in time for Christmas! Three easy peasy ways to enter: Follow Cities Under Fire on Facebook, follow them on Twitter, or leave a comment or question for the band. Enter on the Rafflecopter form below.