My Email Newsletter
Jill Williamson on July 28, 2012
The Sanctum is my email newsletter I send out periodically when a new book has come out, there is a special sale, or I am running a new contest. Click here to subscribe or fill in the form on the sidebar.
I also have a free gift for all Sanctum subscribers. The Senet Box is a short story I wrote for the Spirited anthology. After you subscribe, you will get an email with a link to the ebook for this story. Learn more about The Senet Box below.
Enjoy!

---
The Senet Box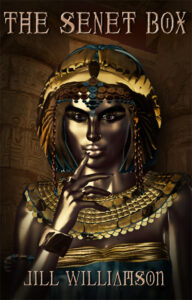 It's the year 1283. Prince John of Cypress and Jerusalem,
at eighteen years of age, is about to take the throne.
But a mysterious senet box he found in an Egyptian
treasure hoard had John's full attention. It calls to him.
Some say he is obsessed. But he must solve the mystery
of the box, if only to know he is not insane.
"Among the standouts … Jill Williamson brings a fascinating
era to life in her tale of a 13th-century crusader king obsessed
with an Egyptian box and the secret it contains."
                                  – Kirkus Review of the Spirited anthology
0 responses to "My Email Newsletter"